LET'S GO TO THE BEACH BIIIITCH! It's time for all Parisians to go down to squat on the beaches of the South, for all Toulouse residents to take the road to Narbonne, and for all locals to insult tourists. Truly the most beautiful month of the year, this lovely month of August. The opportunity for you to be attentive to the people around you on your crowded beaches. Way to know who you have to deal with, depending on what they are doing. Or quite simply, to realize which category of relous you belong to.
1. You bask in the pill all day: you are a born competitor
You are a competitor at heart. You are clearly not here to rest, but to come back the most tanned in the club at the end of the month. You don't hesitate to take the risk of spreading milking fat all over your body to speed up the process. Fuck skin cancer, the competition before the rest.
2. You spend your day in the water: you're a happy redneck
Your favorite activity: playing in the waves and hitting the big bars when you lose your swimsuit. You are a redneck, but a happy redneck. And frankly, it's nice to see.
3. You build sand castles: you're a bit psycho-rigid
You have kept your child's soul, and you satisfy in this way your fallen dreams of an architect. Sand is a way for you to bring out your creative soul while exorcising difficult school failures. Nooooo, that's wrong. You're just a thirty-year-old kid who's a bit psycho-rigid around the edges. Grow a little.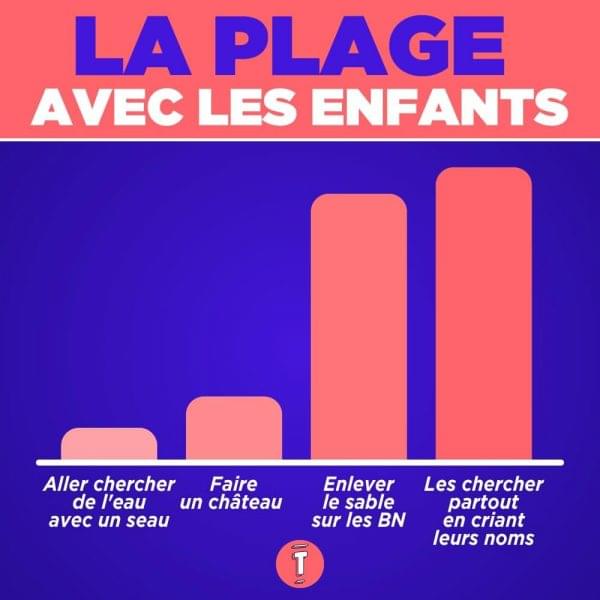 4. You dig holes in the sand: you missed your vocation
After the repressed architect, make way for the unacknowledged swimming pool specialist. These "sand pools" are like your career at Irrijardin: a blissful hole that fills up in two passages of swells. You are a sweet dreamer, a relentless one who continues to believe that YES, one day, you will be able to bathe in this thing, in the middle of the sand. It's nice to believe in your dreams, even those that are physically impossible. Report on the fact that the sand absorbs the fleet.
5. You alternate sunbathing – breaststroke: you suck
Efficient. Pragmatic. But still a bit annoying. I mean… You're not the most original chip in the package, are you? Not the potatoes in a cone of fries. Not the most fluorescent condom in the box. In a kitchen drawer, you'd be the blunt knife. Nice, but not folichon.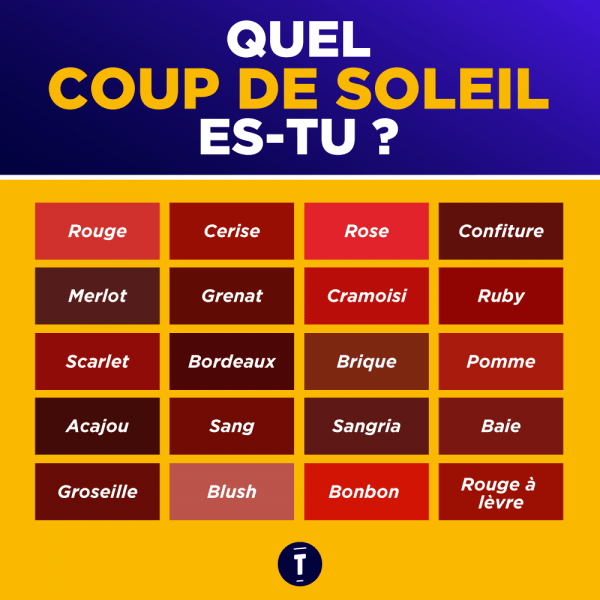 6. You bring a maximum of beach games: you are a healthy person
Tac tac (beach rackets) is your national sport. For you, holidays rhyme with games with friends and physical activities. You are a healthy person in body and mind, who likes to mix business with pleasure by exposing yourself to the sun without remaining static like a stranded starfish. You are a good person. We can't wait to challenge you on snowshoes, to see if all this perfection wouldn't hide the spirit of a bad loser.
7. You adopt crazy positions in order to wet only your hair: you are superficial and criminal
Your goal for the summer: come back with beautiful blonde hair. You spend your time soaking your mop of hair in salt water, letting them dry in the sun, and starting over. I don't want to make hasty judgments, but… Actually, I do. I'm definitely here for that. Know that you are a superficial person who has no pity for his poor hair which will come back from vacation completely burnt. Cheer. Self-centered.
8. You take a thousand photos to feed your social networks: you're a mytho
On your Insta, you seem to have gone to Hawaii, when you just had a short stay at Le Bout De la Baie Salée campsite, next to the North Sea. You're a bit of a mytho. The advantage of your way of life is that you leave your vacation with an entire portfolio of photos of yourself. Way to admire you again and again during the rest of the year. You're right, self love is important. Don't hesitate to watch at least one sunset with your real eyes. Not behind your phone. Way to see what life looks like without a filter, what.
9. You eat: you are the best person on the beach
You have everything in life. Little ice cream here, little crepe there. Over here the darlings and donuts my little lady! Yum Yum Yum. You are a bon vivant, who knows how to enjoy the simple things in life. Do not change anything.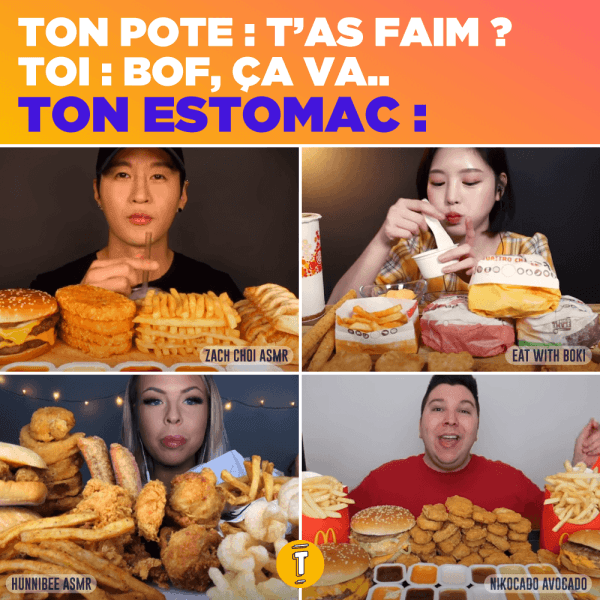 10. You go hunting for crabs and other small animals: you prepare quietly for Koh-lanta
You are an adventurer, resourceful and reckless. You're not afraid of much, especially not small beasts, sharp rocks and swell. You have only one philosophy: find little crabs and ruin their lives. You do not have a heart. But a bucket full of shellfish. What recharges your ego to block.
11. You read books: bocou cultured tee
Tua cultured trow kelkun tee. Too bad, however, that you chose the integral of Marc Lévy. There were so many other choices in the culture departments of Leclerc in Six-Fours-Les-Plages. Aaaaah, but no! Not Musso either! Make an effort, bitch.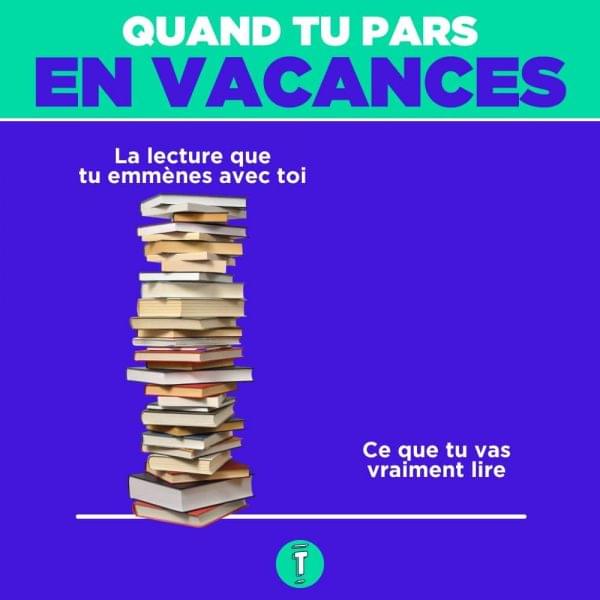 12. You do crosswords: you're a happy little old man
If the sandcastle team has kept a child's soul, you are clearly one of those who assume their soul of a little old man. You are a fairly calm person, for whom the beach rhymes with the opportunity to stimulate their neurons. You have opted for a vacation in Cape Breton, in a small camping mobile home. What a combination of calm and simplicity. A vacation in your image.
13. You play with the sand: you're toxic
Your philosophy: it doesn't take much to be happy, really very little to be happy. A few rays of sunshine, lots of sand and a little salt. But above all… Sand. To sink your feet into it. To let it flow through your fingers. To throw it in the face of your neighbors while shaking your napkin. To bury your little sister there. To make rotten scrubs for you. Sand. Lots of sand. More sand. You're funny, but a bit creepy and toxic, all the same. Curb the delirium a bit, please.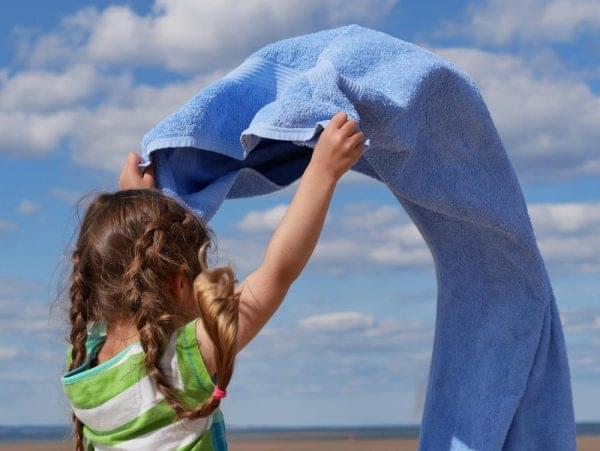 14. You complain H24: you're Parisian
You are never happy. Never. And "gnagnagna, it's too hot in the sun". Et "gnangnaga it's too cold in the water". Et « y'a trop de moooooonde »et "it's too cheeeeer". And shut your mouth a bit, right?
15. You pee in the water: you're the greenest on the beach
You are an ecologist, a real one. You take care of nature by not using water unnecessarily. You live your stay at the sea as a real return to nature. A reconnection with the Earth. If you had to sum it up in one word, it would be "simplicity". You sometimes catch yourself enjoying the little stream of hot water that caresses your legs after your pee. You are a jerk. But a filth in osmosis with the force of water. I have the impression of reading a bad astro, and you?